London Day 3 Part 3
While we had wanted to show some of the historical highlights of London to the kids, I also wanted to plan at least one fun activity. After learning that the tallest and longest slide in the world was in London my kids were totally on board. BH not so much. The slide is located at the ArcelorMittal Orbit which was a tower built for the London Olympics at the Olympic Park. The park was a bit of a ride on the tube from central London but you only live once. Luckily when we left the pub, the rain stopped and it was becoming a beautiful afternoon.
The ArcelorMittal Orbit: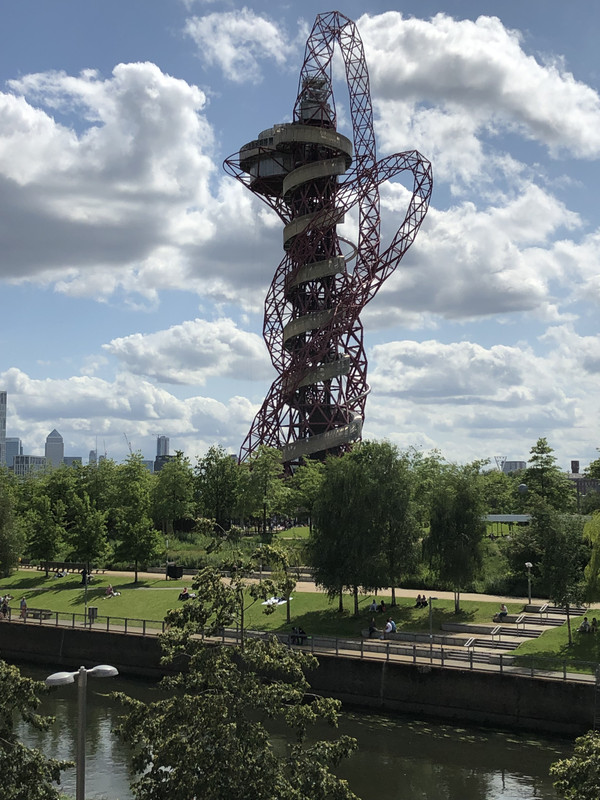 At the top is an observation area and the start of the slide. You can kind of see the slide better from this picture- it's the grey tubing in the center: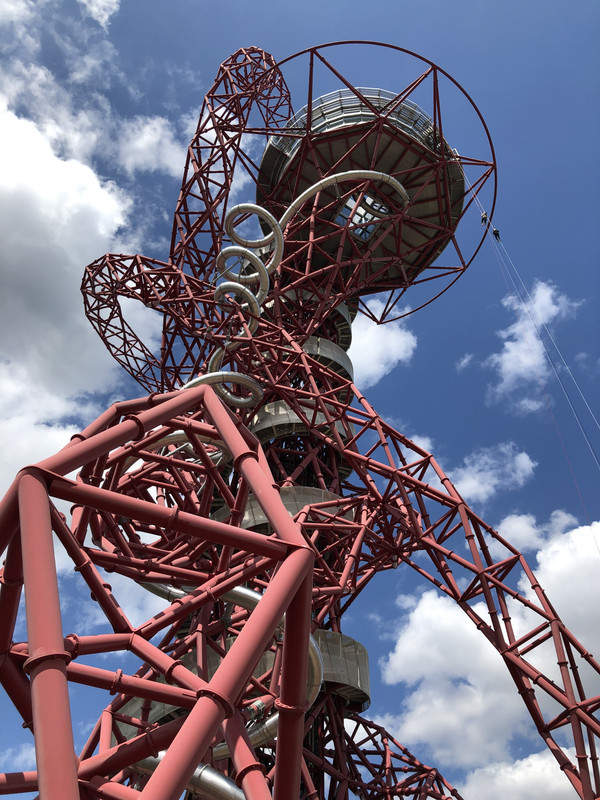 Bro was excited to see that the tower was right next to West Ham stadium.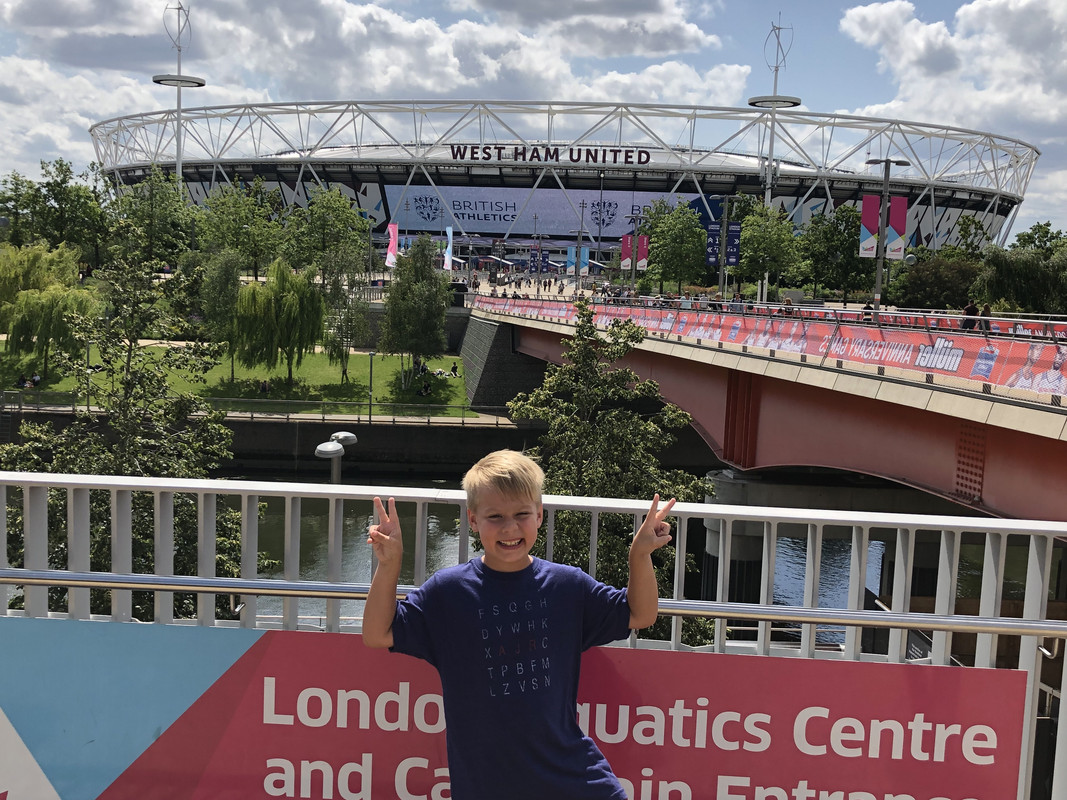 After seeing Stamford Bridge and how compact it is, I can understand why West Ham fans were less then excited to call this stadium there new home as it is huge. There was actually a track and field meet at the stadium which we could hear as we went to the tower.
Again we had pre-purchased tickets with a set time. They were running late however and we were told to go up to the observation area for a bit before our time would be called for the slide. There were also some people repelling down the side of the tower which was a big nope for us. The slide was the limit for our daredevils.
A view of London: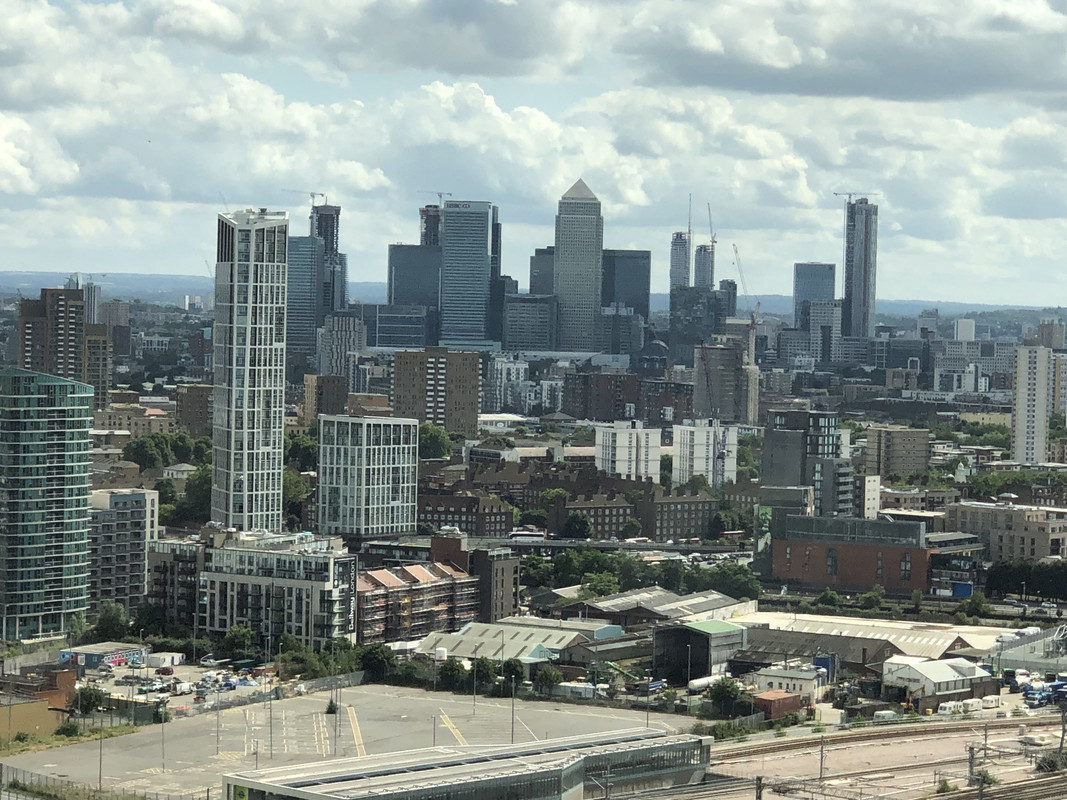 The kids enjoyed killing time waiting to be called: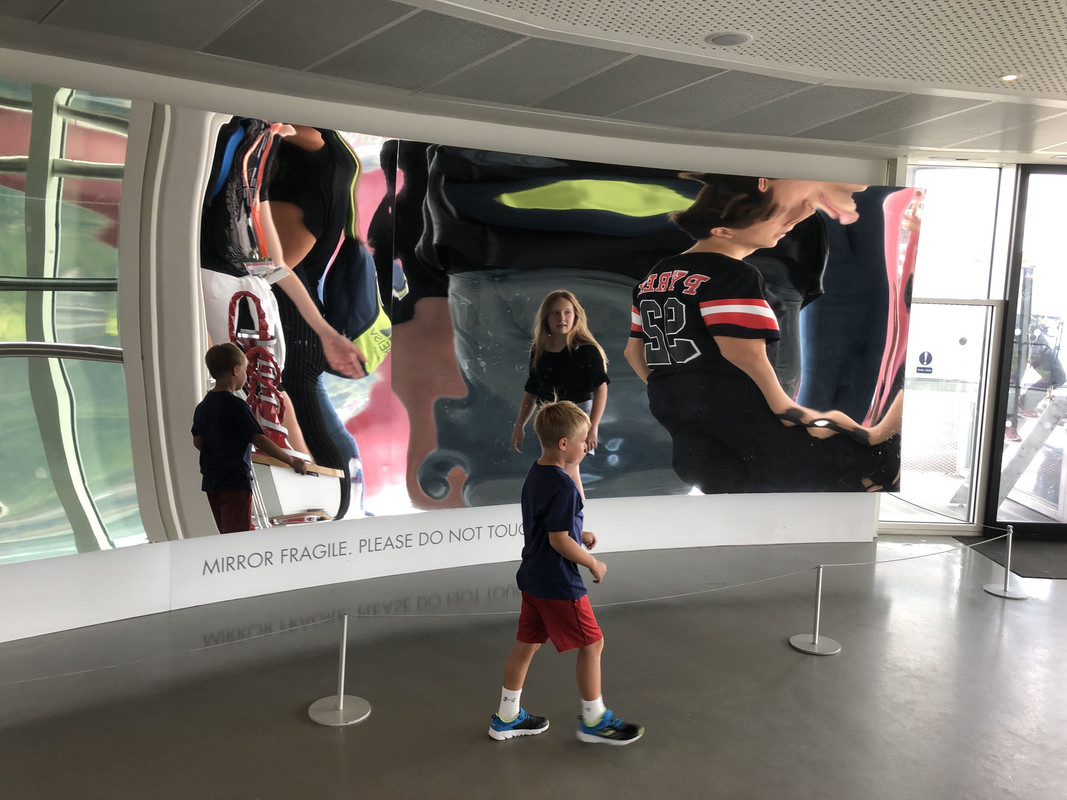 The boy watching someone getting ready to go down: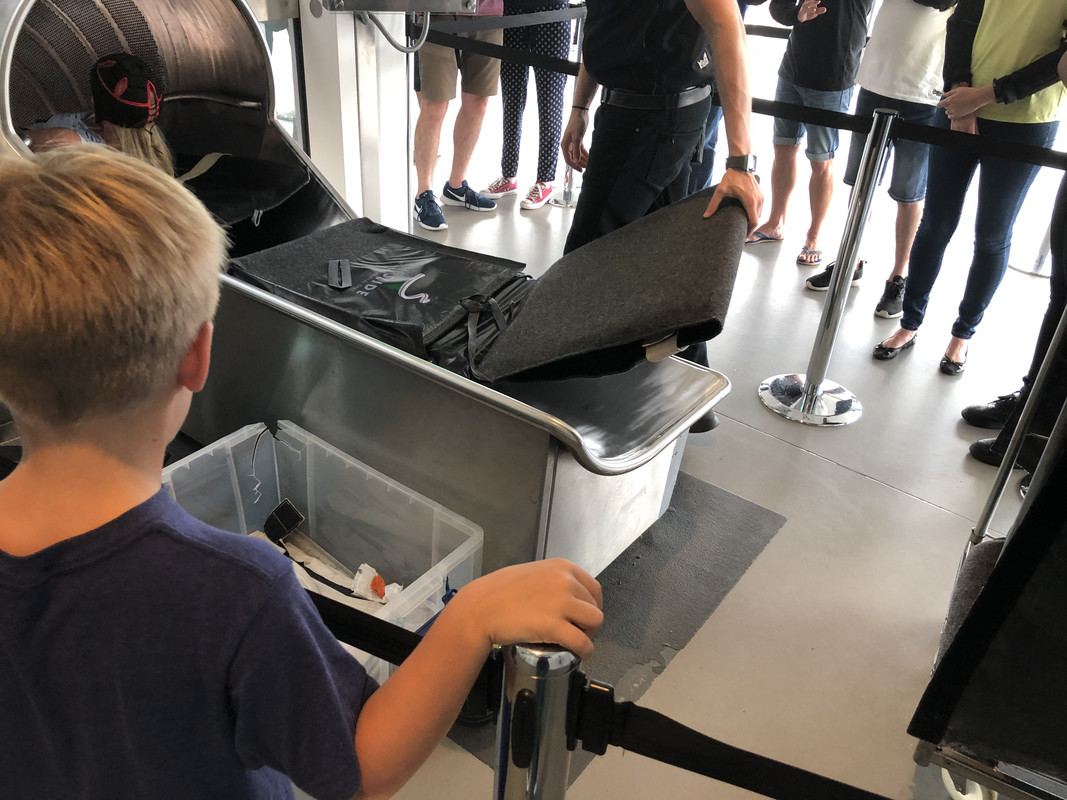 To ride the slide, you are outfitted in a helmet and arm pads. You are also provided with a toboggan like sled. I kind of felt like an old time football player with the leather helmet and bare bones padding. After getting dressed, the kids couldn't help but slap each other in the head while in their protective gear. I actually wish I could keep the helmets for the next time the kids decide to fight. Since you have to leave everything including phones in your locker, I didn't get a photo of us all decked out in our gear which is a shame because we looked absolutely ridiculous.
Being that high up, I will say I was a bit nervous going down. I was the first victim (I mean Guinea pig). I was also the idiot that got to wear a go pro.
Contemplating my life choices: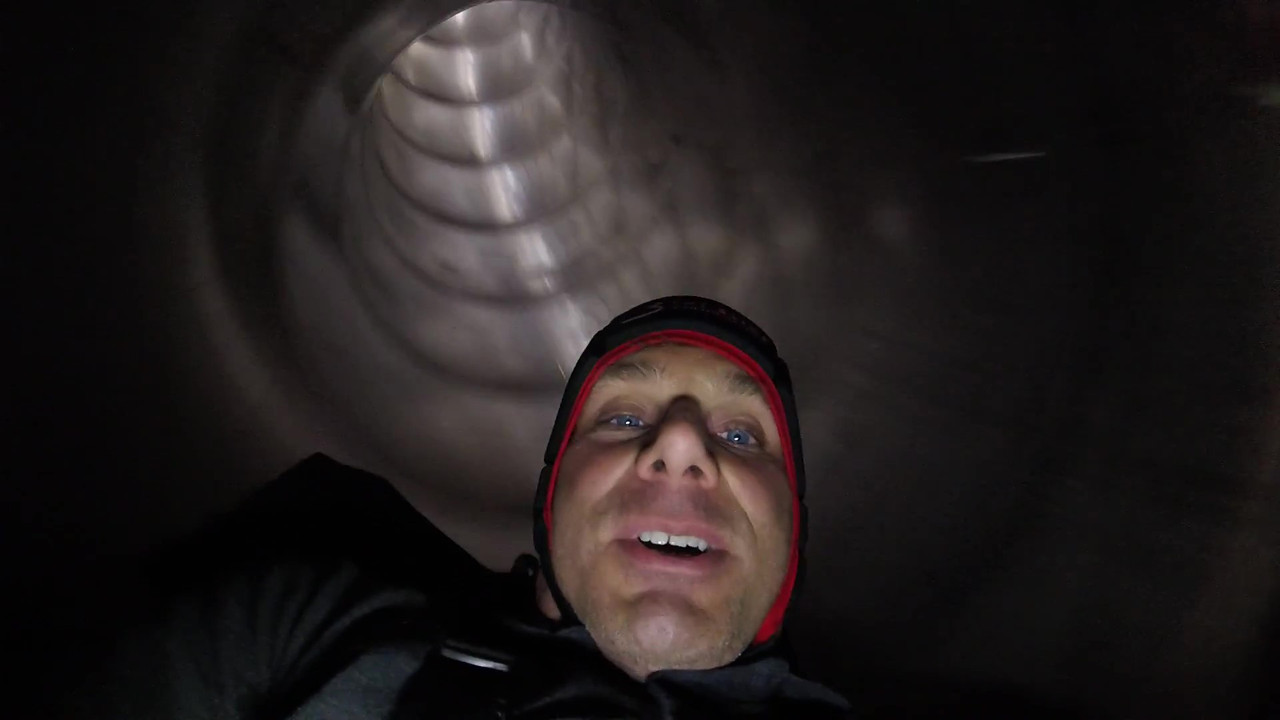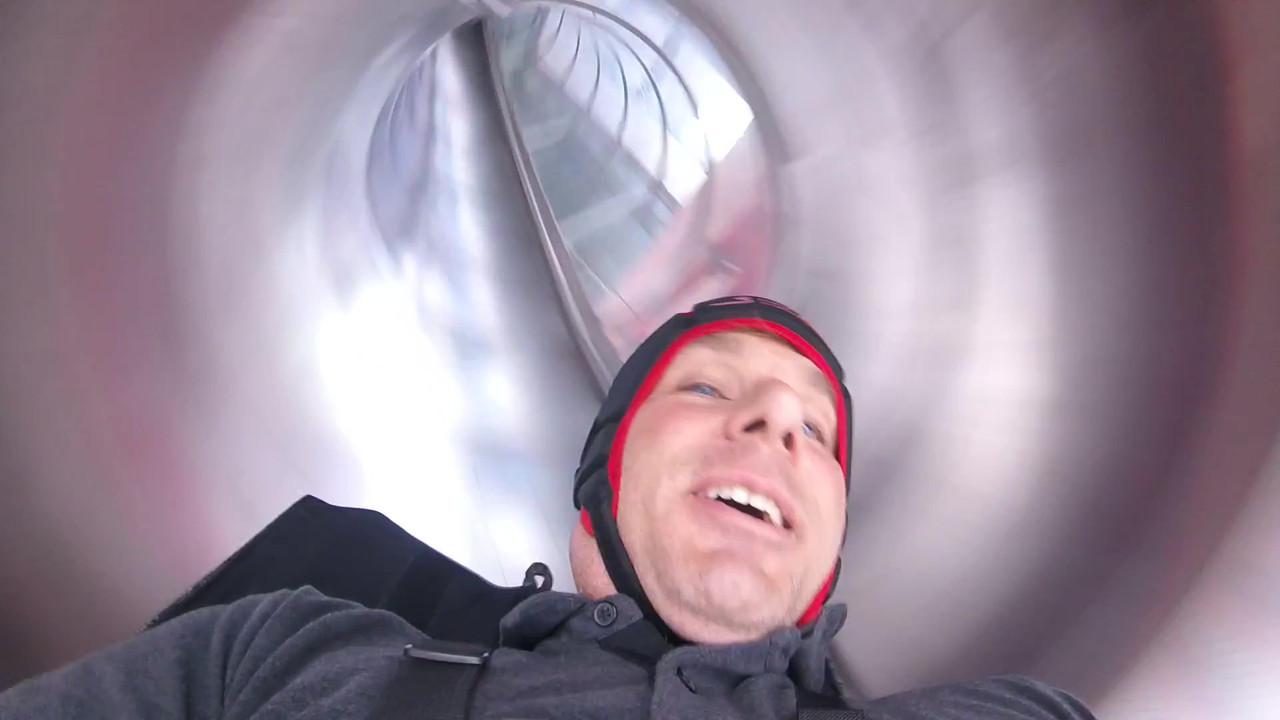 The slide was actually was not that scary once you were on it although it was a little claustrophobic. On some portions of the slide light came in and other portions were completely dark. Depending on the turns, there were some portions of the slide that were pretty fast but then you would hit a slower section and would slow down to prevent you from building up too much speed. All in all, everyone liked it and it was not as scary as it initially looked. Compared to our experience at Tivoli Gardens later in the trip, it was a breeze.
As we were heading out, the track and field event at the stadium let out and we were in a proper English mob heading back to the underground. They actually had stewards out with big signs saying "STOP" and "GO" for crowd control walking back to the underground. I can't imagine this working in the United States as no one would pay the stewards any attention. I did appreciate the crowd control as it allowed the mob to be dispersed a bit. We then headed back to our hotel briefly before dinner when we walked right past when Mama Mia was letting out. Apparently, whatever we were doing for the day, we were going to run into mobs of people.
In addition to lunch at a pub, we knew we would have to eat at an Indian restaurant at least one night in London. While I wouldn't say we eat Indian food to often (although Sanaa is a must do when we stay at Kidani), one thing I learned from my previous trips to London is that Indian food tastes better in London. We went to Marsala Zone in Covent Garden which is a mini London chain that seemed like it would be a good choice with the kids.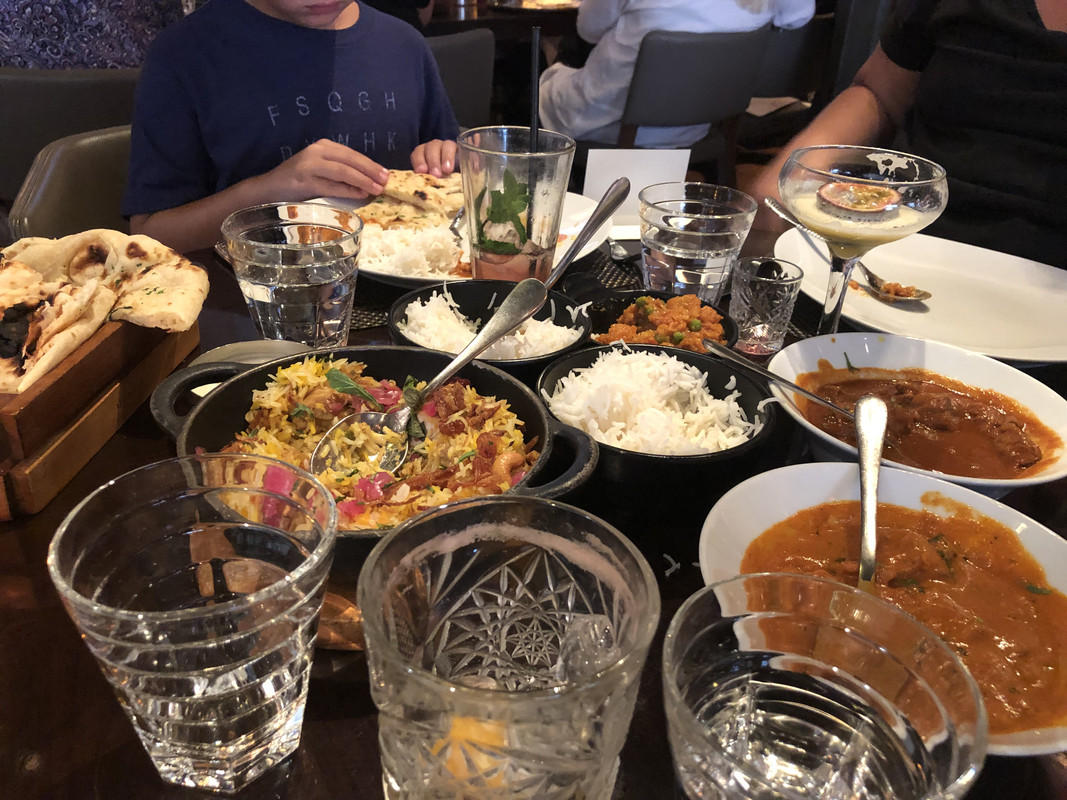 private image upload
We really enjoyed everything at this restaurant and I would totally eat here again. Luckily for the boy, he was not kissed by anyone for cleaning his plate.
After dinner me and DD headed out to the West end while BH and the boy went back to the hotel to pack and get ready for the cruise the next day. As the boy wanted to see a football stadium, DD is a Broadway fan and a visit to a west end show was a must. BH originally wanted to take DD to Les Misérables which is not playing on Broadway anymore. Unfortunately, we literally arrived a week too late as Les Mis was moving to a new theater and was dark. Many of the other shows were inappropriate or DD had previously seen. Ultimately, we decided on Phantom of the Opera. Since my BH is not a fan, I took DD.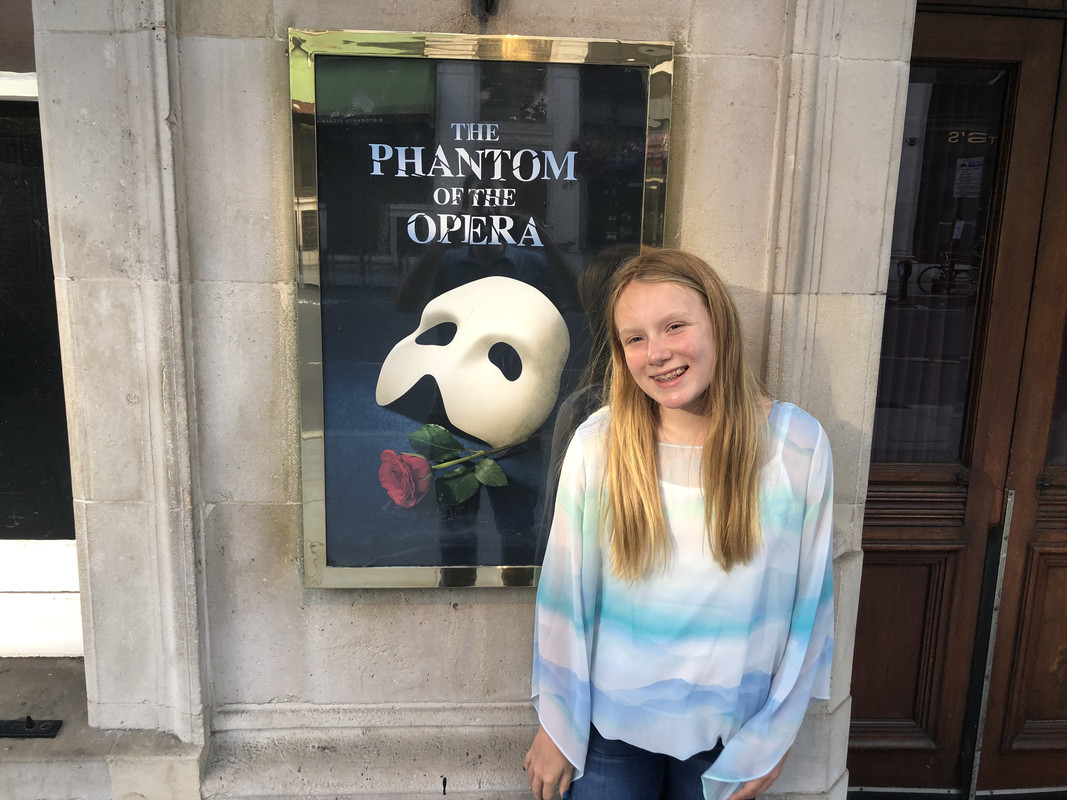 DD was surprised that there were no free playbills in the West End but I bought her a guide anyway since they were not too expensive.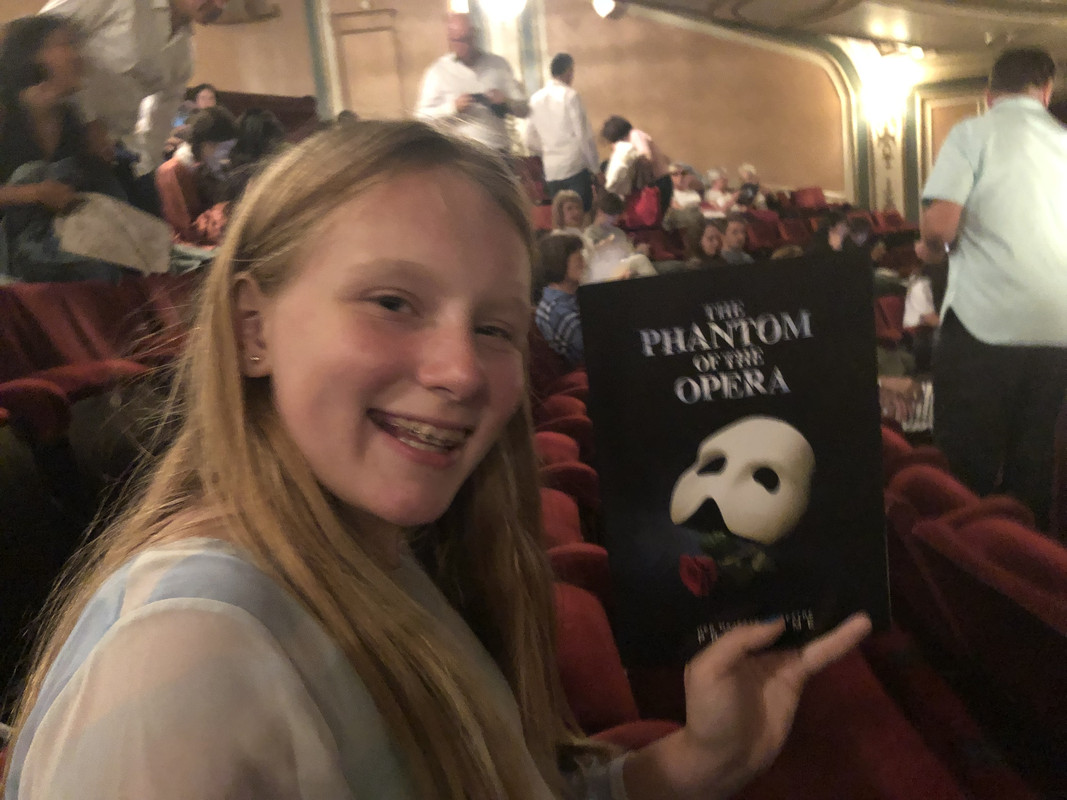 The show was good although I'm not the biggest Anthony Lloyd Webber fan. DD loved it and proclaimed that it was one of her favorite plays. After the play we went back to the hotel as the London portion of our trip was over. After three days of London, I was ready to start the cruise (as I'm sure some of you following along are too).
Next up: We start the cruise (Finally!) after a quick stop in Dover (
). If you've hung in so far, hang in a bit longer-Scotland, Iceland and Norway were amazing.